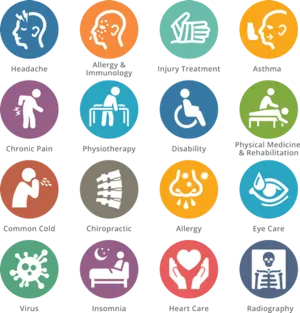 Our clinic is available to you for most routine acute problems, ranging from pink eye to bladder infections, ankle sprains to headaches. Our clinic does not diagnose and treat health problems over the phone. Appointments are usually available in our office on a timely basis so that we can examine you properly and diagnose and treat your problem accurately. Your health is our primary concern.
In urgent cases such as cuts and lacerations, you may be asked to visit the office to be treated immediately without an appointment. We are sensitive to the need of handling these problems quickly.
We treat chronic medical problems, including diabetes mellitus, high blood pressure, elevated cholesterol, asthma, COPD, allergies, depression/anxiety, thyroid disease, acne, migraine headaches and heart conditions. Our broad range of practice often serves us well when helping people deal with difficult and often complicated multi-system health problems. It is not uncommon for us to deal with 3-4 chronic problems for any one individual. Although we can diagnose and treat 95% of the health problems we encounter, we will gladly utilize the services of our personally selected network of consultants and specialists if the need arises. We will help coordinate your care with them.